ARTIST BIOGRAPHY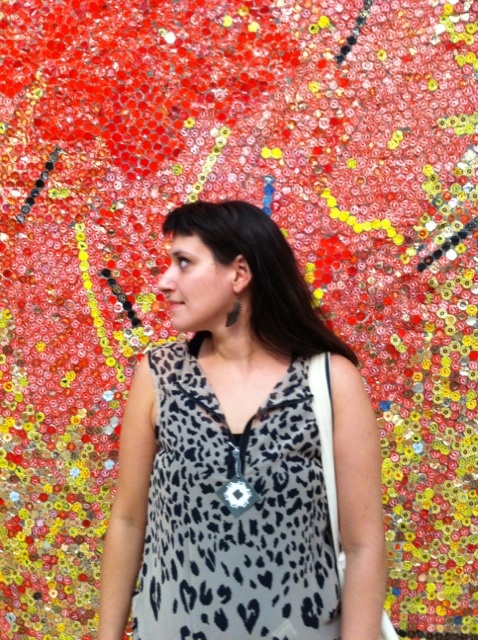 Brooklyn Museum, Gravity & Grace: Monumental Works by El Anutsui


Fine Artist Monica Iancu possesses over fifteen years of visual and cultural arts training. She was born in Timisoara, Romania and raised in New York. Monica recently earned her Masters in Art & Design Education from Pratt Institute in 2015. She will receive her teaching certification by September 2015 and hopes to pursue other teaching, exhibition, and residency opportunities. In addition, she holds a BFA from Massachusetts College of Art & Design. She has exhibited in several group shows and has produced numerous educational exhibits of student work.

Last summer Monica volunteered with the arts organization, Artists Striving to End Poverty as an arts instructor. This organization works in colloboration with the International Rescue Committe, a global humanitarian aid organization to educate and assist recently arrived refugee youth as they transition into NYC public schools. Their mission and curriculum emphasizes learning in academic subjects, the arts, language, and social emotional development. Monica has also volunteered with COPENYC (Creative Opportunities Promoting Equality) to gain hands on experience working with special needs populations and bring arts to local communities.
As an arts educator her plans include developing lessons and programs geared to; encouraging health and well being through creative expression, cultivating an appreciation for the earth and respect for all life, multicultural understanding, non-violent expression and cultural tolerance through arts exploration.

Her interest in education began as an undergrad student when she participated in a life-changing cross-cultural art and literacy program, with Navajo children in Shiprock, New Mexico. As an artist, she has been greatly influenced by her experience of the southwest landscape and her study of Native American and eastern mythology and traditions.

Since then, she has freelanced and assisted in everything from marketing, production, administration, bookkeeping, to studio and art education.

In 2008, she participated in the Teaching Artist Training & Residency Program with the Community Word Project in order to pursue her original interest in teaching. She also volunteered for several years in the Children's Program for the Shambhala Meditation Center of New York, of which she is a member. While at Pratt, she student taught in the reputable Saturday Art School Program and at the Dorothy Bonawit School in Queens, NY.

As a visual artist, her specialty is in painting, mixed media, collage and printmaking working with handmade drawn and printed materials, She creates works that reference natural textures, processes, and environmental themes. Her subjects vary from architecture, to deserts, to the arctic and more recently exploring astronomy. Texture is a focal point of her work, representing time through the articulation of marks as they are made or removed and leaving behind the impression of a feeling.

She hopes to ignite a sensitivity and appreciation for the subtlety of organic life and instill a deeper awareness of process and history. These themes are powerful for what they convey about transformation and change as well as for how they might relate to art-making and our human experience.

Monica's love for nature has also made her passionate about environmental issues. Global warming conditions in the poles, pollution in our oceans, and wildlife extinction makes conservation efforts more crucial than ever. The narrative of the melting arctic is haunting, evoking both a physical and psychological terrain it is as raw and desolate as it is sublime and immensly beautiful. Despite all this, it's fate is quite vulnerable and tragic. This makes it a special subject to investigate.


Monica currently lives and works in Queens, NY and is a member of The Shambhala Meditation Center of NY, The Drawing Center, Children's International, and the NRDC. Her favorite writers are Annie Dillard, Rebecca Solnit, & Pema Chödrön. Favorite past-times include: Reading science, non-fiction, poetry, theology, & dharma; collecting rocks and found objects; taking walks; visiting museums; watching films; urban art photography, life and culture; breathing in and observing the many wonders of being alive.